Minimally Invasive Spine Surgery in Chandigarh, Panchkula, Mohali Tricity area
The main goal of a typical minimally invasive spine surgery is to stabilize the vertebral bones and spinal joints and or sometimes to relieve pressure being applied to the spinal nerves with minimal incisions & minimal destruction of normal health tissues, tells Dr. Manish Budhiraja, a known neurosurgeon in Chandigarh, Panchkula, Mohali Tricity area.  Minimally invasive surgery typically helps in conditions such as spinal instability, bone spurs, herniated discs, scoliosis or spinal tumours.
A typical open spine surgery is not that fast to operate, complex and carries more risks for the patients. A typical recovery time required for minimally invasive surgery are less than typical open spine surgery, tells Dr. Manish Budhiraja, one of the best neurosurgeons in Chandigarh.
The fact that there is a reduced trauma to the muscles and soft tissues when compared to a open spine surgery main benefits of the minimally invasive spine surgery are as following:
Faster recovery times, with lesser reliance on pain medications.
Less painful and smaller skin incisions which are quick to heal that large-scale incisions which are required for a open spine surgery.
Blood loss in the procedure are typically lesser that open spine surgery.
As there is reduced trauma to the soft tissues and muscles damage the risk of muscles or soft tissue dames are very much nulled
Minimally invasive surgery typically requires smaller incisions hence risk of infection and postoperative pain are lesser.
How does a Typical Minimally Invasive Spinal Surgery Works?
Spine is buried deep under the layers of soft tissues and muscles, in an typical open surgery all soft tissues and muscles will be cut or incised to gain access to the spinal cord, but in a minimally invasive spine surgery, strategic small incision are made through which guiding instruments, microscope video cameras are put through these incisions.
According to Dr. Budhiraja a known name in the neurosurgeons in the area, there are Various methods/techniques are used for minimally invasive spine surgery, some of the most common ones are as following:
Using a Tubular Retractor
Percutaneous Placement of Screws and Rods
Direct Lateral Access Routes
Thoracoscopic Access Route
Common Minimally Invasive Spinal Surgery Treatment Options
A number of specific techniques have been deployed for MINIMALLY INVASIVE SPINE surgery. Though the field continues to develop, the list below highlights some of the most common options.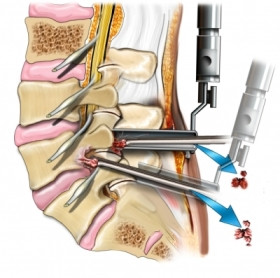 Discectomy: Spinal discs are essentially elastic rings with soft material inside that serve as cushions between the vertebral bones. If the elastic ring becomes weakened, the soft tissue inside can extrude — or herniate — outside of the elastic ring. The herniated disc material can compress the nerves passing by, thus causing pain. If surgical treatment is recommended to trim or remove the herniated disc, it may be possible to perform this procedure with MINIMALLY INVASIVE SPINE surgery using tubular dilators and a microscope or endoscope.
Spinal decompression: Spinal stenosis, which is a narrowing of the vertebral canal, is a common condition that can result in compression of the nerves. This can produce a variety of symptoms, including pain, numbness and muscle weakness. If surgery is recommended, it may be possible to remove the bone and soft tissues causing the nerve compression through a MINIMALLY INVASIVE SPINE approach using tubular dilators and a microscope or endoscope. The more common decompressive procedures include laminectomy and foraminotomy.
Transforaminal Lumbar Interbody Fusion (TLIF): Also know as PLIF (post lumbar interbody fusion) This is a MINIMALLY INVASIVE SPINE technique that is performed for patients with refractory mechanical low back and radicular pain associated with spondylolisthesis, degenerative disc disease and recurrent disc herniation. The procedure is performed from the back (posterior) with the patient on his or her stomach. Utilizing two small incisions, screws and rods are placed between two or more vertebral levels. The intervertebral disc is removed and a cage filled with bone is placed in that void with the goal of stabilizing the levels affected.
Like any other surgery or procedure there are some inherit risk which many patients can be prone to, some of the common ones can be
Allergic reaction
Anaesthesia reaction
Bleeding
Blood vessel damage
Bruising
Headache
Incision problems
Infection
Need for further surgery
Pain or discomfort
Paralysis
Pneumonia
Spinal fluid leakage
Stroke
Worsening in less 1% of the cases
Recevvlunce
Conditions Treated using Minimally Invasive Spine Surgery:
Degenerative disc disease
Herniated disc
Lumbar canal stenosis
Spinal deformities such as scoliosis
Spinal instability
Vertebral column fractures
Candidates for Minimally Invasive spine Surgery
Minimally Invasive Spine SurgeryDr. Manish Budhiraja says, only a neurosurgeon will be able to tell which MINIMALLY INVASIVE SPINE surgeries, if any, might be an option for treating a spinal condition. In some situations, MINIMALLY INVASIVE SPINE surgery may not be as safe or effective as traditional open surgery. If so, the doctor will be able to inform you about the relative risks and benefits. In addition, there are some conditions that are not truly treatable with MINIMALLY INVASIVE SPINE surgery, tells Dr. Manish Budhiraja, one of the best neurosurgeons in Chandigarh, Panchkula, Mohali Tricity Area.